News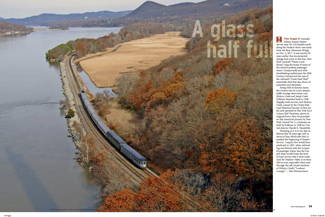 A double-header in December Trains magazine.This issue featured two Zimmermann stories: "A Private 'Dude,'" about the members-only train that once served the Massachusetts elite, and "A Glass Half Full," which noted the fiftieth anniversary of the death of the 20th Century Limited, operated by New York Central between New York City and Chicago and considered by many the most famous train in the world. This two-pager featured a Zimmermann photo made along the Hudson River on December 2, 2017–the exact anniversary–of an Amtrak Empire Service train trailing Hickory Creek, an observation car built in 1948 for the Century and now operating in private ownership. The car was back on the route it had plied for nearly 20 years. The piece about the "Flying Dude," which operated between Boston and Woods Hole from 1884 to 1916 and served the rich and famous of the day, had appeared in slightly different form in Martha's Vineyard magazine. Also still on newsstands when these stories ran in Trains was the fall issue of Classic Trains, with Zimmermann's "Rambling on the Reading," about a series of wonderful steam-locomotive excursions in eastern Pennsylvania operated from 1959 to 1964 by the Reading Railroad.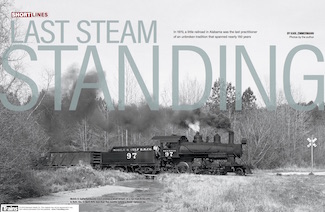 For "Last Steam Standing," an article that appeared in the short-line-focused summer 2018 issue of Classic Trains, Zimmermann dug deep into his photo archive and memory to document a March 1970 visit he and Laurel made to the Mobile & Gulf, a 13-mile-long railroad not far from Tuscaloosa, Ala. By that time the M&G had become the last steam-powered common-carrier railroad in America. Its locomotive, a shapely 1925-built Mogul-type, proved photogenic, as did deep-South environment, and the creosoting plant, the railroad's only shipper, in the company town of Brownville.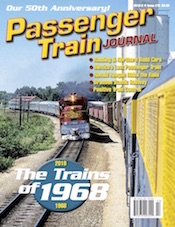 With the spring 2018 issue, Passenger Train Journal marked its 50th anniversary. When Kevin McKinney founded the magazine, long-distance passenger trains were in decline and peril, as they are again today. In McKinney's words, today's magazine continues "to report, advocate, editorialize, and provide historical perspective." Karl Zimmermann's first feature for the magazine ran in the fall of 1970, and 38 have followed - in addition to his 46 contributions as North American Intercity columnist for the magazine since it was reborn a dozen years ago. "Amtrak: Pinching Pennies Again and Again" appeared in the anniversary issue.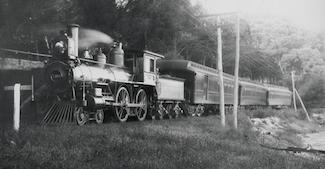 The trains of summer. The warm months of 2017 brought multiple stories by Karl Zimmermann about passenger trains that ran in diverse publications. The June issue of Martha's Vineyard magazine featured "Riding with the Dude," a chronicle of the seasonal private train that from 1884 to 1916 carried wealthy Bostonians from their offices in that city to summer retreats on Buzzards Bay or on the islands of Nantucket or Martha's Vineyard, reached via ferries from Woods Hole, where the "Dude" or "Flying Dude" ended its run. Its moniker was informal, since the train, open only to members of the "Train Club" and their guests, never appeared in a public timetable. Zimmermann's most recent previous piece for the magazine was also about flanged-wheel transport, "What Goes Around Comes Around," the story of the streetcars that long ago served the Martha's Vineyard towns of Oak Bluffs and Vineyard Haven.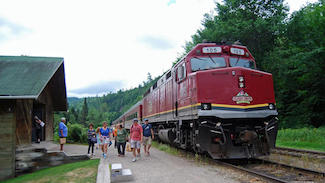 Also seasonal but open to anyone is the Agawa Canyon Tour Train, covered in the Travel Section of the Los Angeles Times on August 6: "Ugly? Hardly. This Ontario train trip showcased scenery that changed Canada's perspective of its landscape." The all-day journey north from Sault Ste. Marie on the U.S.-Canada border reaches into Algoma Country wilderness, an endlessly engaging panorama of lakes, rivers, and forests. It was this area that attracted members of Canada"s "Group of Seven," landscape painters instrumental in defining Canada's artistic consciousness. Agawa Canyon and the Algoma remain a magnet for photographers and hikers today.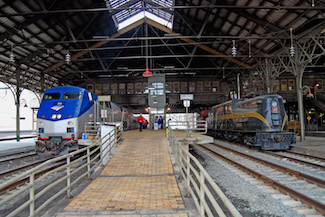 Each quarter brings a new installment of Zimmermann's North American Intercity Rail column, now in its eleventh year, in Passenger Train Journal. The summer issue features "Pennsylmania," a chronicle of Karl and wife Laurel's New York-Pittsburgh trip aboard Amtrak's Pennsylvanian to take in a Yankees-Pirates interleague game at PNC Park. From this springboard the writer digresses about books and what the Pennsylvania Railroad (the company that built they line they traveled) had meant to him over the years.
Talking trains. On October 5, Karl Zimmermann kicked off Susquehanna University's Institute for Lifelong Learning's 2016-17 program series with "The Trains of Yesteryear: A Travel Writer's Trip to Cuba." This illustrated talk showcased a 2001 journey, offered under Treasury Department license by Trains Unlimited, Tours, that was primarily a search for some of the roughly 100 vintage American-built steam locomotives that came to life late each February for the sugar harvest. Zimmermann pointed his camera at not only those standard and narrow-gauge engines but other reminders that Cuba had been caught in a time warp. A search for Ernest Hemingway-related sites was part of the story, as were the 1940s and 50s automobiles still cruising Cuban roads.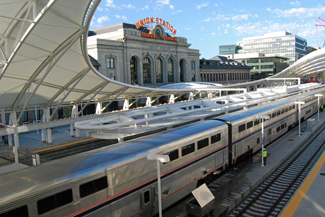 A splendid rebirth. In April, when Trains magazine's Colorado Railroads special issue was published with Karl Zimmermann's feature article, "Denver Union Station," it was the third time in recent months that the author had covered this classic building's restoration, renaissance, and partial repurposing. Earlier the station had been featured in his North American Intercity Rail column in Passenger Train Journal, and he also had written about it in the December 13th Travel Section of the Los Angeles Times: "Historic Train Station is Its Own Destination." Today the station gleams in many roles. Inside are the luxurious Crawford Hotel and a selection of fine places to dine and drink. The elegantly refurbished great hall is now "Denver's Living Room," where everyone is welcome. Amtrak's California Zephyr still serves Denver Union Station.